Biodetection by microarrays, PepTenChip
Tominaga, Y., et.al., Bioorganic & Medicinal Chemistry, 26, 3210-3216, 2018; doi.org/10.1016/j.bmc.2018.04.049
Tominaga, Y., et.al., Bioorg. Med. Chem. Lett. 25, 611-615, 2015.
Nokihara, K. et.al., Prion, 8, 117-118, 2014;
Kasai, K., et.al., FEBS Lett., 586, 325-329, 2012;
Usui, K., et.al., Biopolymers(Peptide Science), 76, 129-139, 2004;
Takahashi, M., et. al., Chemistry and Biology, 10, 53-60, 2003;
Reviewed: Nokihara K, et.al., Peptide Science 2018, Futaki, S. and Matsuzaki, K. (Eds), pp 20-21, 2019.
OPOB
Sasaki, T., et.al., Chemical Biology & Drug Design, 00, 1–9, 2023;
Nokihara, K., et.al., Amino Acids, 48, 2491-2499, 2016;
https://doi10.1007/s00726-016-2269-1
Hirata, A. and Nokihara, K., Tetrahedron Lett. 55, 4091-4094, 2014.
AGP
Tominaga, Y. and Nokihara, K., Int. J. Pept. Res. and Ther, 28, 95-98, 2022.
Investigation of the Behaviors of Molecules Exhibiting Angiogenic Actions - International Journal of Peptide Research and Therapeutics
Previously several angiogenic peptides which exhibited more stable than original heptapeptide have been developed. The molecular mechanism of functions is remai...
Tominaga, Y., et.al., Bioorganic & Medicinal Chemistry, 28, 115685, 2020; https://doi.org/10.1016/j.bmc.2020.115685
PIPA
Sasaki, A., et. al., Scientific Reports, 6,29261, 2016.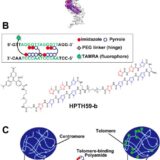 Telomere Visualization in Tissue Sections using Pyrrole–Imidazole Polyamide Probes - Scientific Reports
Pyrrole–Imidazole (PI) polyamides bind to specific DNA sequences in the minor groove with high affinity. Specific DNA labeling by PI polyamides does not require...
Hirata, A., et.al., J. Am. Chem. Soc., 136, 11546-11554, 2014;