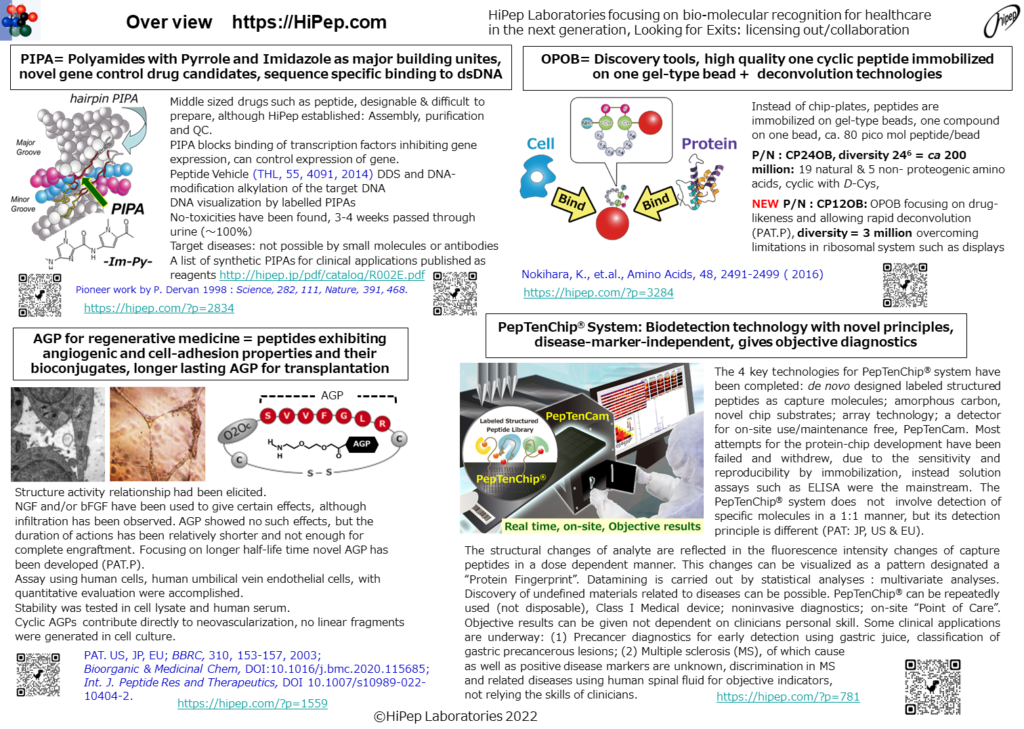 Contents of Business
Current Business
Applications of on biological functions and molecular recognitions based on peptides and proteins
Construction of peptide libraries and related devices and reagents, and consumers: Major commercial products were developed for in‐house use (own research)
Application oriented consultation, contract research, and training
Contract peptide synthesis and purification, analyses discovery, optimization with design
Amino acid analysis, chiral analysis, detection of contaminants, MS analyses for proteins and peptides
Bio‐molecular Recognition Peptides and related compound Libraries
Development of methodology for drug discovery, screening, therapy and diagnosis
Major Products
Devices, reagents and separation columns(HiPep- Cadenza, HiPep-Intrada), in house developed for own use.
Peptide Libraries: Linear-, Cyclic-peptides, immobilized on Gel-type support (one-peptide on one bead) proteins mimicked by peptides; 24 natural & non-proteinogenic AA, their diversity 246= 200Mil → Construction of the Peptide-vehicle for DDS
Designed compound libraries ( -strand, -helix, -loop, dual labeled (FRET), glycopeptides for arrays, on beads immobilized peptides
Angiogenic Peptide & Peptide conjugates for Biomaterials
→ QOL (US and JP-Patent, License out, Related compounds and derivatives)
From Natural Resources: (Detailed data disclosed under NDA)
Non-proteinogenic amino acid Mimosine and its Derivatives: an useful building block in combi-chem/chemical biology: 2-amino-3-(3-hydroxy-4-oxo-4H-pyridin-1-yl)-propionic acid, isolated from tropical legume, purified and characterized also its chirality
Novel Bio-Chip (PepTenChip®), designed labeled peptide arrays
Novel materials made from amorphous carbon for bio-chips, micro-reactors and micro-analyzers. Tailor made surface functional groups, size, format are available.
Peptides and related compound Libraries: dispense service
Immobilized Linear‐Cyclic‐peptides with natural and non‐natural AA
Overlapping Peptides of Proteins
Designed peptides for array (helices, sheets and loops, with sugars or fatty acids)